KIN UNIFIED HEALING INSTITUTE
Integrative Wellness Education for Empowered Communities
WEEKLY CLASSES
YOUR JOURNEY BEGINS HERE - ALL LEVELS - EASY ACCESS - YOU CAN HEAL YOURSELF
KIDS MINDFULNESS SCHOOL
Embrace Social and Emotional Growth through Play, Mindfulness, and Yoga. Official Vendor of Granite Mountain and Sage Oak Charter.
Testimonials
Kin is such a special studio with very unique donation based classes centered on deep holistic healing. I felt that each class took me on a beautiful journey through either movement, sound or inner release. I felt truly impacted by the classes I took. Listed below are the ones that sparked great change, healing and energetic shifts for me

My son recently completed the first session of Camp Kin and he enjoyed it very much! He was excited to attend each day and even more excited to discuss all the activities he did. He was able to learn musical instruments, meditation, capoeira, yoga, and even brought home arts and crafts that he crated with the help of his amazing teachers. This was a great experience for the summer because it was a way to take a break from academics. He made new friends right from his own community. I'm thankful to have a place like Kin Unified Healing to bring the community together especially the kids of our community! I would recommend this Camp if you're looking for fun and enjoyment for your little one!

This journey began with me wanting to learn everything about the mind, body, spirit connection so that I could manage my anxiety and depression. After completing several life changing course certifications at KIN and healing current and past life traumas through learning how to access the Akashic records from Janelle, I realized that I was also meant to guide others struggling with depression and anxiety through energy work. This has also been the case for many of the community that KIN has created. Janelle has provided a place for students to feel empowered to hold sessions, and has provided opportunities for others to become teachers.

Besides providing a safe space/teaching us how to create our own safe spaces for the profound shadow work that we are invited to dive into, I appreciate that classes curated by and/or led by Janelle always incorporate creative expression. All of my experience at KIN has greatly assisted me in my work to remember my authentic spirit. The classes and teachers are diverse and efficiently encourage the inner work that is so necessary for growth. And they are fun!!

I came here because I was doing some soul searching in my life and I got something unexpected. I found a community that I've come to love and respect. And just the other day I had one of the most profound downloads during a breath work class. "when you heal yourself, you heal your family." It's almost like I'm trying to put a jigsaw puzzle together when I come here. I'm connecting the dots that have brought me to this point of my life. And at the same time everything else that doesn't serve me falls off the board. And if anyone is a fan of the X-men series, this is like a school for the spiritually gifted. No experience required.
JOIN OUR VIRTUAL COMMUNITY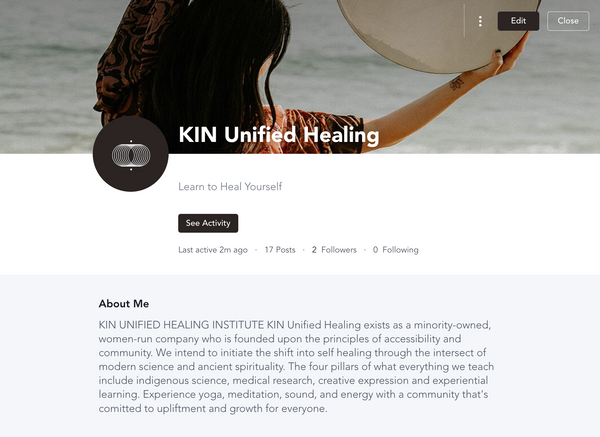 KIN COMMUNITY
KIN Community is on Mighty Networks. Join our digital family and connect with seekers from all around the world and gain access to self help courses and easy convenient wellness tips.
FOLLOW US ON INSTAGRAM
Use this text to share information about your store with your customers. Describe a product, share announcements, or welcome customers to your store.