Our 200 Hour Somatic Body Multi-Style Yoga Teacher Training is a comprehensive and immersive program designed to deepen your understanding of yoga and the body-mind connection. This training combines traditional yoga techniques with the latest somatic movement practices to create a unique and transformative experience. You'll learn how to work with the body in new and innovative ways, helping you become a more effective and confident yoga teacher. 

Over the course of 10 weeks, you'll explore a variety of yoga styles, including Hatha, Vinyasa, Restorative, and Yin. You'll deep dive into the world of somatic movement, learning how to help your students release tension, increase mobility, and reduce pain. Our program is taught by experienced yoga teachers who are dedicated to helping you achieve your full potential. 
In addition to learning new techniques, you'll also explore the philosophy and ethics of yoga, gaining a deeper understanding of the history and tradition of this ancient practice. You'll have the opportunity to study anatomy and physiology, and learn how to create safe and effective sequences for your students. These teachings nurture both a physical practice as well as the more subtle practices of breathwork and meditation. 
Whether you're a committed student looking to deepen your practice, aspiring yoga teacher or an current teacher looking to expand your skills, our 200 Hour Somatic Body Multi-Style Yoga Teacher Training is the perfect way to take your yoga journey to the next level. Join us for a transformative experience that will change the way you see the world and yourself.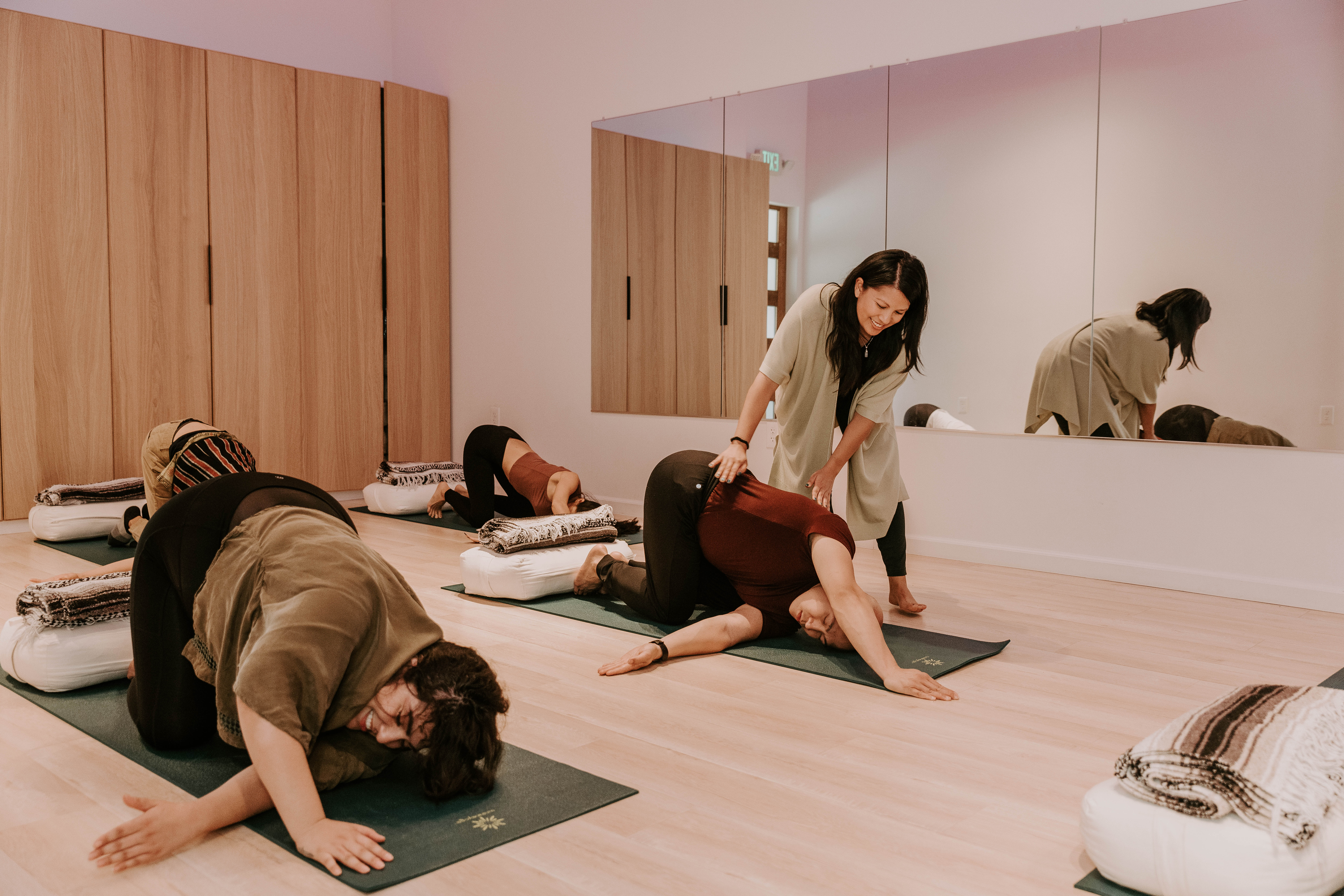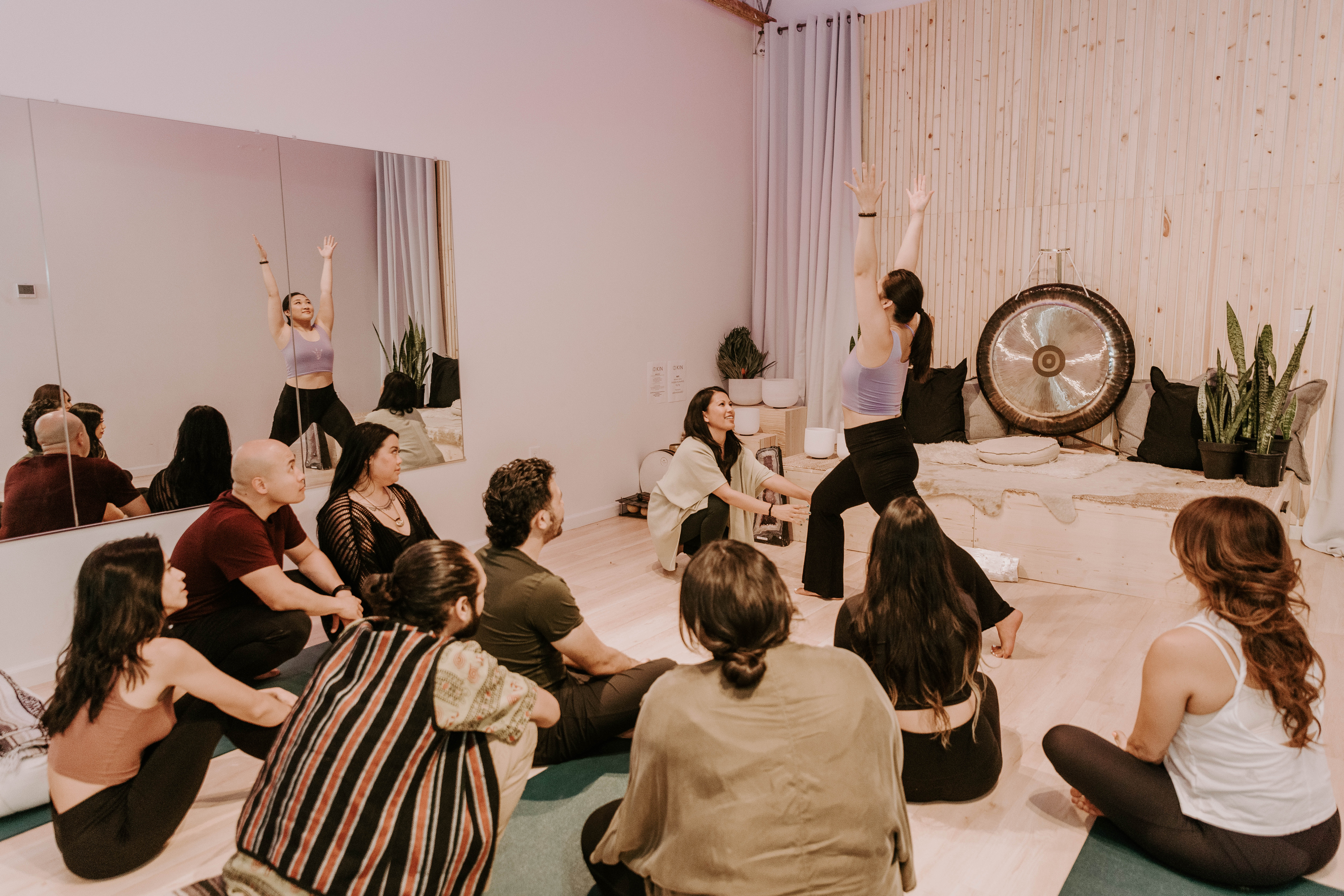 WHAT MAKES OUR TRAINING DIFFERENT THAN OTHERS? 
Incorporating science and somatic research from our foundational, evidence based leadership teachings into this yoga teacher training program adds a unique and valuable dimension to the training experience. This training is designed to help individuals develop greater awareness of their physical sensations, movement, and emotions. For aspiring teachers, this improves their ability to teach and adjust poses in a safe and effective manner that promote physical and emotional resilience and well-being. This course will be offered in a hybrid in-person and online format with a sustainable schedule to integrate the lessons into your daily life while jumpstarting your goals to effectively share these teachings.
LEARNING OUTCOMES 
At the completion of the training, participants can expect to have gained the following learning outcomes: 
Understanding of Yoga Philosophy and Ethics: Participants will have a deep understanding of the history, philosophy, and ethics of yoga. This includes knowledge of Patanjali's Yoga Sutra's and the 8 limbs of yoga and how they can be applied to daily life and ethical responsibilities of teaching yoga. 
Knowledge of Anatomy and Physiology: Participants will have a comprehensive understanding of anatomy and physiology as it relates to yoga and movement, including common injuries and conditions and how to modify for them. 
Skill in Asana Alignment and Teaching: Participants will have a strong understanding of safe and effective alignment principles and be able to teach and adjust asanas effectively, providing increased proficiency in asana practice and alignment. 
Proficiency in Pranayama and Meditation: Participants will be able to integrate pranayama (breathing techniques) and meditation into their own practice and teaching, and understand the anatomy and physiology of the breath and its impact on the nervous system. 
Understanding of Somatic Body Practices: Participants will have a deep understanding of the benefits of somatic body practices and how to integrate them into their own practice and teaching. 
Ability to Sequence Safe and Effective Classes: Participants will have a strong understanding of safe and effective sequencing principles and be able to design and teach yoga classes that promote physical and emotional well-being. 
Increased Self-Awareness: Participants will have developed greater self-awareness and the ability to release tension and increase awareness in the body, which can improve their own practice and help them better understand and assist their students. 
 Improved Emotional Regulation and Resilience: Participants will have a greater understanding of the interplay between emotions and physical sensations in the body and be better equipped to regulate their emotions and develop greater resilience.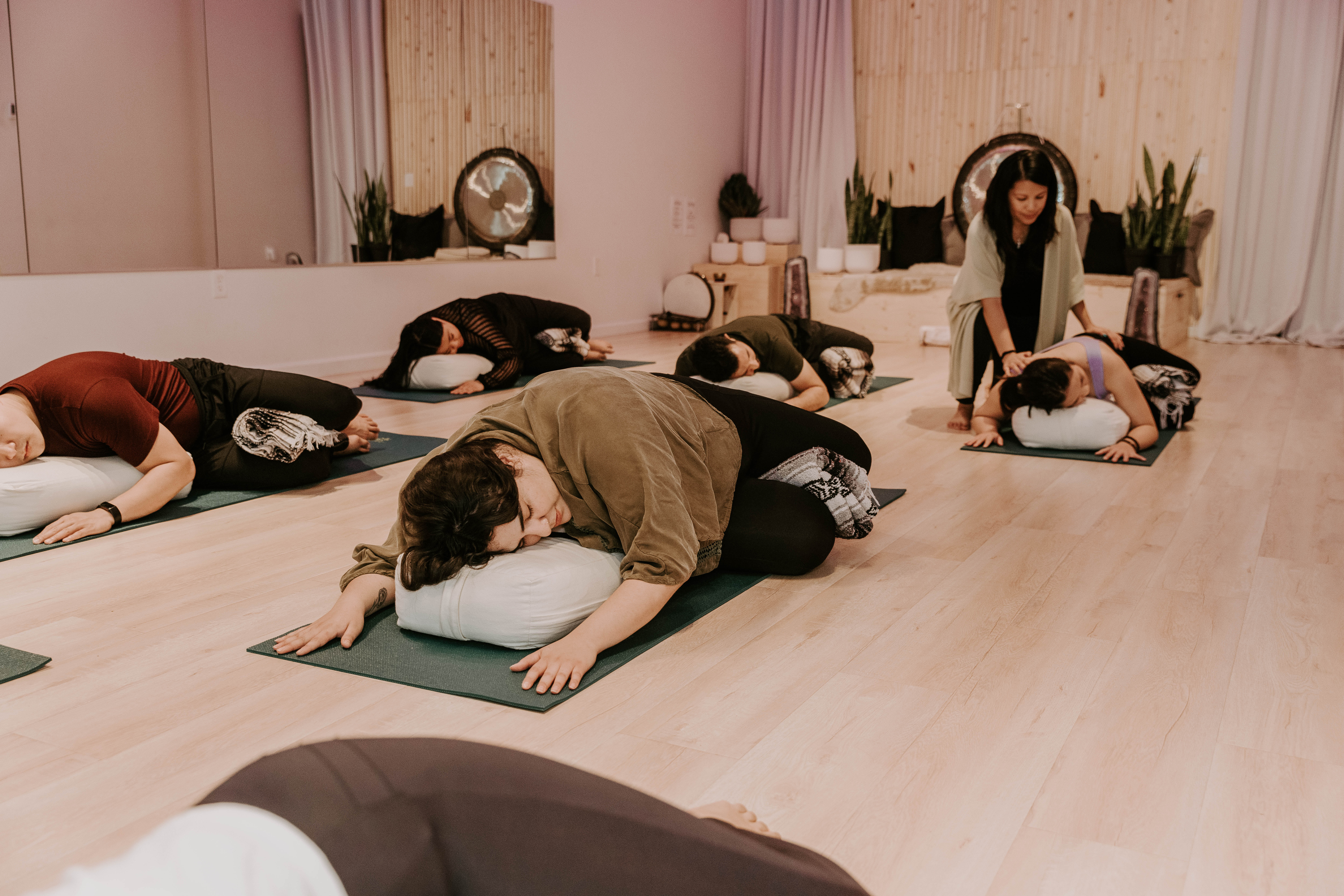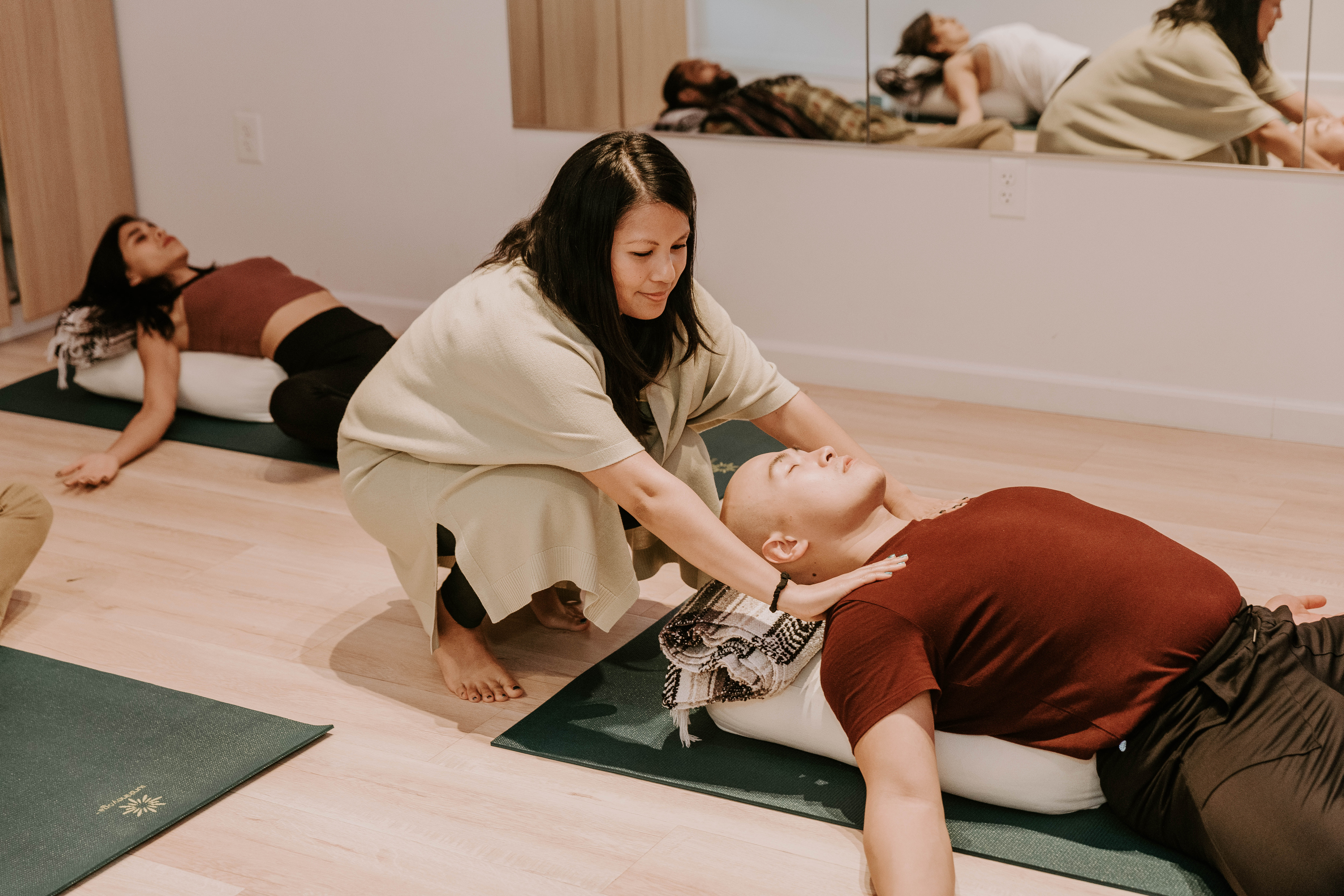 DATES:
 Hybrid In-Person and Pre- Recorded Lectures Online. "Office" hours tbd 
Summer In-Person Lab Sessions
9am - 5pm
June 3,4 Sat/Sun
June 18 Sun 
June 24, 25 Sat/Sun 
July 9 Sun 
July 15, 16 Sat/Sun 
July 23 Sun 
July 29, 30 Sun 
Aug 6 Sun 
Aug 12,13 Sat/Sun 
Sample Schedule: 
9-10am Meditation and Yoga Practice 
10-11 Yoga Philosophy 
11-12 Anatomy Physiology 
12-1 Asana Lab 
1-2 Lunch Break 
2-4pm Teaching strategies 
4-5pm Peer practicum

RESOURCES/ BOOKS
*Mandatory Books: 
The Yoga Sutras of Pantanjali 
The Yamas and Niyamas - Deborah Adele
Science of Yoga- Ann Swanson 
The Yoga Bible-Christina Brown 
The Science of Breath - Yogi Ramacharaka 
Yoga of the Subtle Body- Tias Little 
Mindfulness in Plain English- Bhante Gunaratana 
Myths of the Asanas: The Stories at the Heart of the Yoga Tradition- Alanna Kaivalya
CAREER PATHS
After obtaining a yoga certification, there are several career paths available to you, including: 
Yoga Teacher: You can start teaching yoga classes in studios, gyms, community centers, and even online. With your certification, you'll be qualified to teach a variety of yoga styles and levels, from beginner to advanced. 
Private Yoga Instructor: You can offer private yoga lessons to individuals, either in their homes or at a location of your choice. 
Corporate Yoga Instructor: Many companies are now offering yoga classes to their employees as a way to reduce stress and promote wellness in the workplace. You can offer these services to businesses and organizations. 
Yoga Studio Owner: If you're interested in entrepreneurship, you can open your own yoga studio and create a space for people to practice and grow their yoga skills. 
Yoga Retreat Leader: You can lead yoga retreats, either domestically or internationally, offering students a chance to immerse themselves in a yoga experience. 
Yoga Therapist: With additional training, you can become a yoga therapist, working with clients who have specific health conditions, such as back pain, anxiety, or depression. 
Yoga Writer or Influencer: You can share your passion for yoga through writing articles, creating videos, or hosting a blog. You can also work as a yoga influencer, promoting products and services related to yoga. 
These are just a few of the many career paths available to you after obtaining a yoga certification. With your skills and expertise, you can create a fulfilling and meaningful career, helping others transform their lives.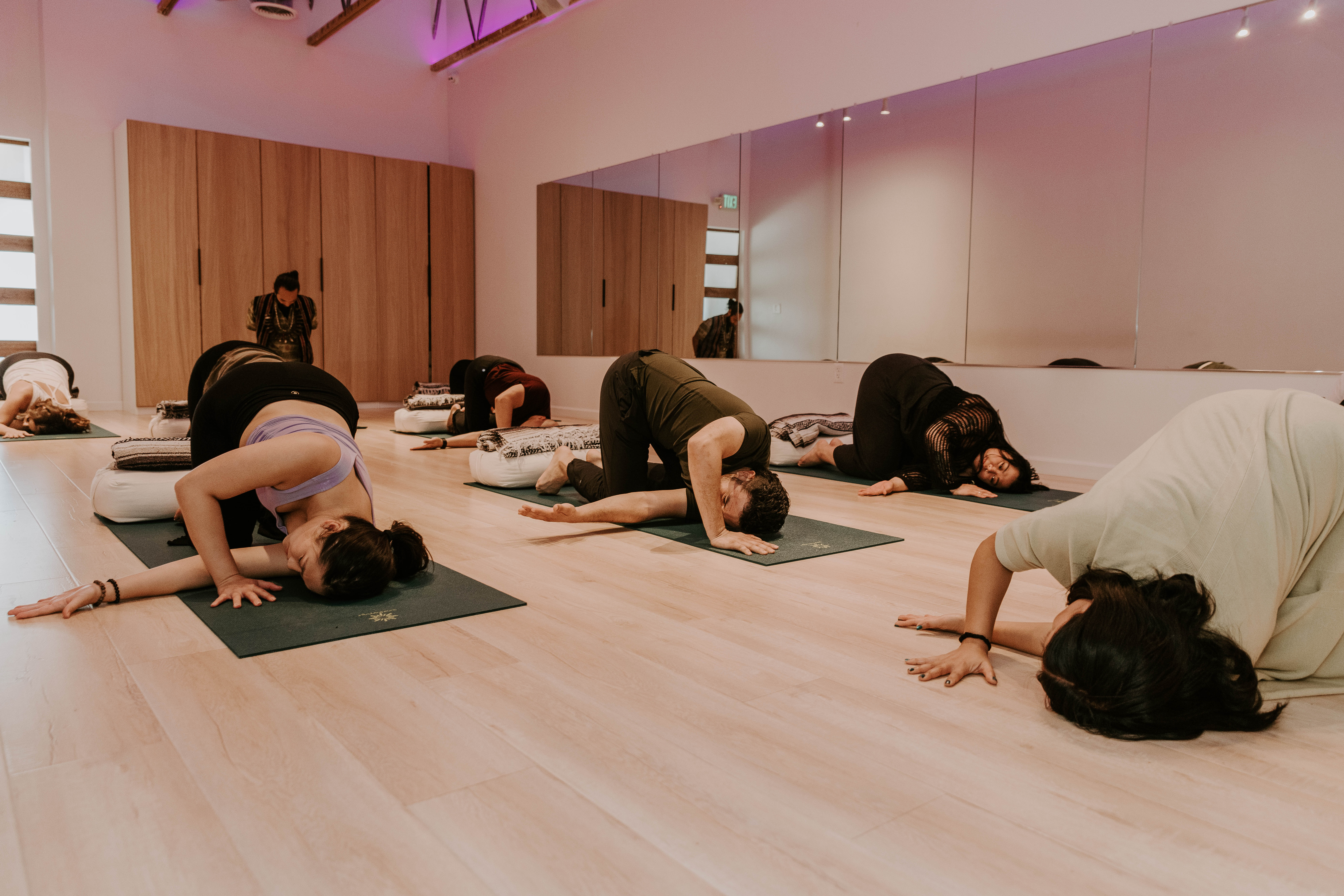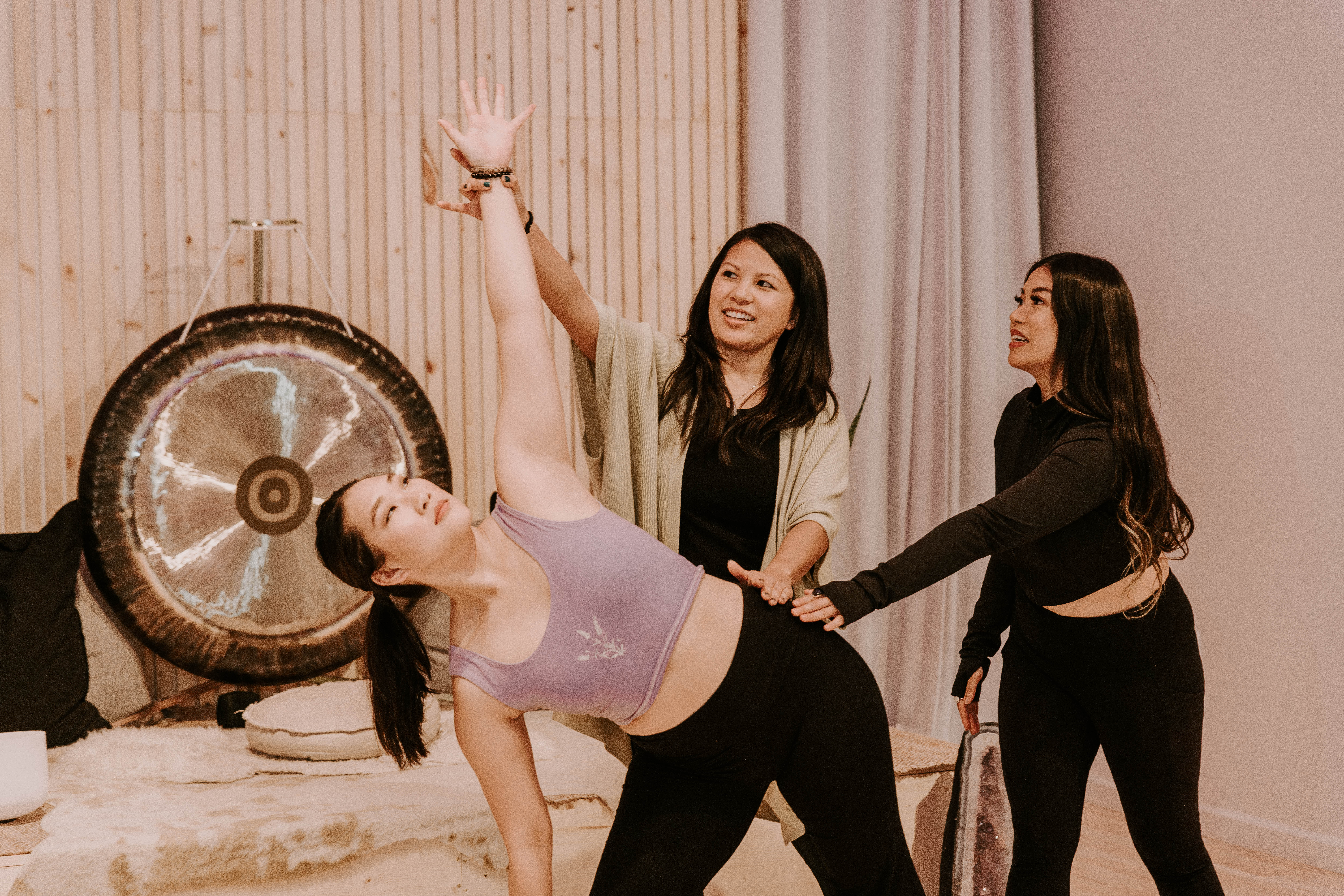 OUR LEAD INSTRUCTOR AND COURSE AUTHOR: CAROL CORPUZ
Carol Corpuz is a compassionate, seasoned yoga and meditation teacher with 15 years of experience in the wellness field. She holds multiple certifications in yoga, Reiki Energy, Sound healing, and breathwork and has taught at various local public studios, retreat centers, and private corporations. Born in Los Angeles and raised by Filipino immigrants, Carol brings her diverse cultural perspective and passion for service to her teachings. With a background in science, Carol combines precise alignment and thoughtful sequencing with a deep connection to pranic, somatic and subtle bodies. She is a true testament to the healing power of body-mind connection, having overcome spinal injury, anxiety, panic attacks, and griefs of loss through her devotion to study and practice. Carol is dedicated to fostering the growth of authentic, trauma-sensitive, and equity-oriented teachers to help shape a brighter, more inclusive future in yoga and wellness.